Welcome to Mango v4
Mango v4 is a massive update to the robust and stable Mango legacy. It brings a robust platform field tested for large scale enterprise IoT deployments. With robust end to end connectivity, rock solid distributed data collection, massive scale data storage capabilities, and an unbeatable data visualization and custom UI development environment. Usability, Scalability and Security are at the core of the Mango v4 release.
New Unified User Interface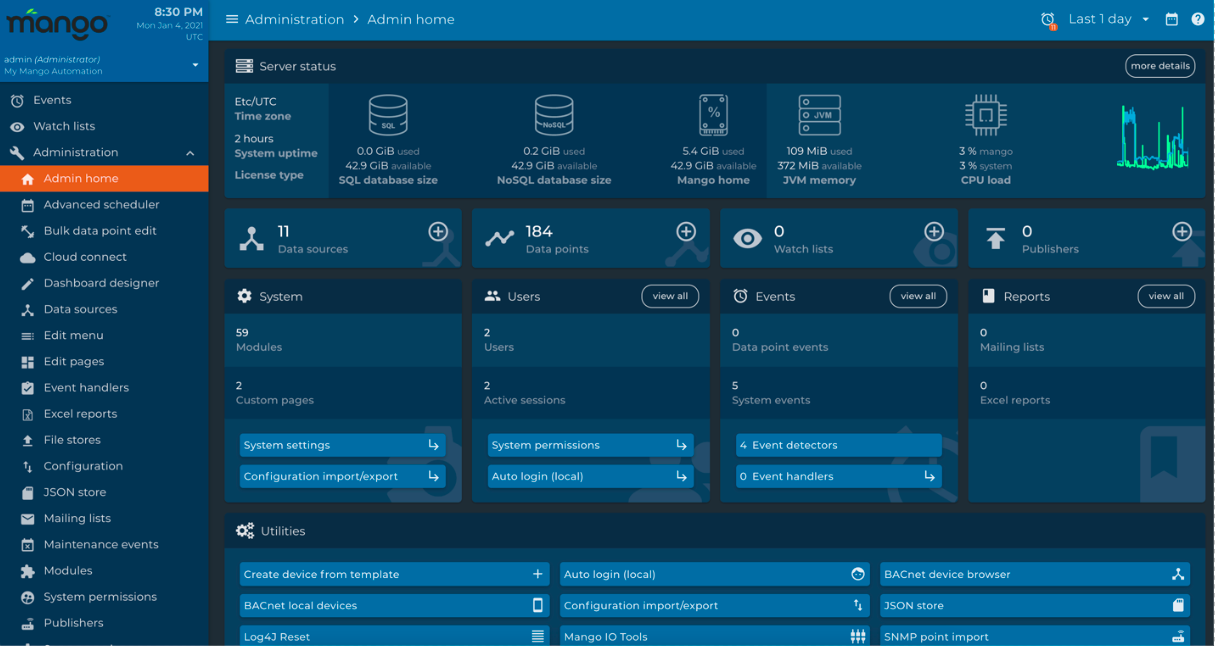 Mango v4 now has one complete unified HTML5 user interface for administrators, power users and basic users. Fast, mobile responsive, improved workflow.
Get jobs done and manage small and large systems faster and easier than ever
Security enhancements
Enhanced security management features to allow you to meet a wide range of Corporate IT standards and demands.

LDAP and SSO integration
New Development Mode and Tools
Enhancements to the Mango rapid development environment allowing better debugging, faster code updates
New user permission system will role inheritance and logic expressions
Faster and easier to configure users and assign them the correct roll. The new Permission and Roll structure allow for 1000's of unique rolls to exist without a management nightmare.
Scale
Security features, new user role system, and many other features all allow Mango v4 to be deployed with 100k's of data points in a single system. Many performance improvements have gone into Mango v4 to allow systems to operation with hundreds of thousands of data points and even up to 1 million data points.
Proven
Mango v4 is now being used around the globe by multinational enterprise organizations at large scale. Mango v4 has proven to be a reliable and robust IoT platform allowing for rapid deployment while offering a world class experience
Other enhancements:
Cloud Connect – advanced proxy and port forwarding?

File Store Scripting (link to video)

Scripting Event Handler

If you are considering upgrading from a previous version to Mango v4, please review all relevant upgrade information beforehand. It can be found here.